The old adage "failure to plan = planning to fail" is particularly fitting in the events industry…
The task of organising a major conference or an event aiming to introduce your company, a new product, or award has all the potential to go wrong unless you plan for every eventuality.
Of course, if you exhibit imagination and common sense in your planning you're sure to be responsible for an event that sticks in people's memory for all the right reasons. Indeed as you'll see elsewhere in this guide, Yorkshire and Lincolnshire are home to all manner of exceptional venues, usually with their own in-house conference teams. They'll be able to dot the I's and cross the T's during the build-up to the event and allow you to concentrate on the speaker line-up and entertainment while they look after the nuts and bolts. These days audio-visual equipment and catering often come as standard, and while you'll be able to supplement it with any additional services, the basics will doubtless be covered. But never take this for granted.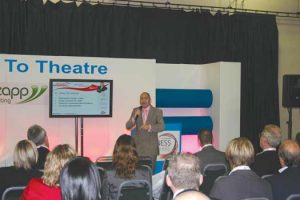 All the technology in the world won't be able to cover up a badly-organised programme, however. One of the most common pitfalls is to cram a conference or event with far too much content. You may have put together an impressive line-up of entertainment but if you try and fit too many in too short space a time, speeches could become rushed to the extent of becoming unintelligible, or the whole schedule could overrun spectacularly, leading to some panicked rearrangement later. In addition, even the most attentive delegate will struggle to sit in the same chair for several hours without a break – so make sure there's give in the schedule for potential overruns, last minute bookings and time for delegates to network and discuss.
If you've got a decent-sized contacts book, it should be easy enough to select the speakers, but they'll need to be made aware of the nature of the event and the facilities available in advance. If you're looking for someone amusing for the "and finally" spot, it would be a real letdown if their spot was crushed in at the end with everyone glancing at their watches. Likewise if you're planning on booking that hilarious speaker or singing waiters who went down so well at the last conference you attended – how many of your guests were at that one as well?
The perfect conference is a mix of the formal and informal – so even if a lot of solid information is to be given out, Q&A sessions can bring a bit of levity to proceedings. Don't forget too that feedback after the event can prove highly valuable – and these days it's easier to garner than ever before. This will ensure your next event is even better.